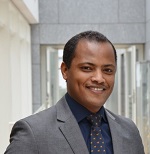 Henok Birhanu Asmelash is a Post-Doctoral Global Fellow affiliated with the Frank J. Guarini Center on Environmental, Energy and Land Use Law. His current research focuses on the role of international law and its institutions in the transition towards a sustainable energy future.
Prior to joining NYU, Henok was a Research Fellow within the International Law and Dispute Resolution Department of the Max Planck Institute Luxembourg. He has also worked with Professor Anne Van Aaken at the University of St. Gallen as a Marie Curie Fellow and held visiting research positions at the University of Barcelona and the Max Planck Institute for Comparative and International Law in Heidelberg. Henok has consulted the International Centre for Trade and Sustainable Development (ICTSD) and the World Institute for Development Economics Research (WIDER) on the regulation of energy transition subsidy policies.
Henok holds a Ph.D. in International Law and Economics from Bocconi University (Milan) and LL.M. degrees in International Economic Law and Policy from the University of Barcelona and in Business Law from Addis Ababa University.
All
Affiliated
Faculty
Scholar
Team