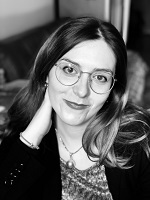 Francesca Iurlaro holds a PhD in Law from the European University Institute in Florence (2018) and she is currently a Research Fellow of the University of Milan, Italy. She graduated in the history of philosophy (University of Macerata, 2014) and has an LLM in Comparative, European and International Laws (European University Institute, 2015). For her PhD thesis, she worked on a history of the concept of customary international law in the natural law and ius gentium tradition from Francisco de Vitoria to Emer de Vattel. She is now turning her dissertation into a book for publication, titled "The Invention of Custom. Natural Law and the Law of Nations, 1550-1750". Its seeks to provide an asnwer to the question of when and how the concept of customary international law originated in European debates on natural law and law of nations, by arguing that this tradition provides us with a solid conceptual framework to contextualize and understand the "problematic" of custom", i.e. the question concerning the normative content of CIL. Natural law, in fact, provides jurists with an imaginary reserve of argumentations and narratives, through which jurists "invent" customary rules applicable to their present situation. Over time, these arguments progressively and cumulatively crystallize into a notion of CIL as coincident with European cultural history. They become the fabric itself of CIL, the normative validity of which lies in the fact that it enshrines cultural values recognized by the community of European states.
Her research interests include international legal thought, history of political thought, history and reception of natural law theories, law and literature, food ethics, and animal rights. In 2012 she was awarded the Alberico Gentili Prize for her Italian translation of and introduction to Alberico Gentili's Lectionis Virgilianae Variae Liber ad Robertum filium, a less-known commentary of Vergil's Eclogues published by the famous jurist in 1603.
At NYU, she will work on a project titled "Conscience or Interest of States? The Birth of Opinio Juris as a Constitutive Element of Customary International Law (CIL)" which constitutes a further expansion of the topic addressed in her thesis. She will focus on the contribution of a neglected figure in the history of international law, that of the German jurist Rudolf von Jhering (1818-1892).
All
Affiliated
Faculty
Scholar
Team