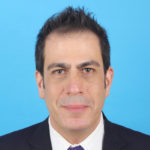 Eytan Tepper is a post-doctoral Global Fellow affiliated with the Institute for International Law and Justice. His research project at NYU is part of his research agenda on space governance and it builds on his previous research conducted at McGill University's Institute of Air and Space Law.
The institutions and treaties at the core of space governance are Cold War remnants in dire need of reconceptualization and modern theoretical underpinnings. Dr. Tepper's research at McGill analyzed the architecture of space governance using international relations and political economy theories. It demonstrated that space governance is on track to become polycentric, as multiple, issue-specific, governance centers led by stakeholders and experts emerge to fill the gap left by the gridlock at the main multilateral institutions. His research at NYU will take the next step and focus on one such emerging governance center.
The research at NYU will study a case of an issue-areas in global affairs in which there is scarce multilateral regulation and instead effective rules are made by the combination of States' unilateral actions and private ordering, almost skipping multilateralism. The result, what Dr. Tepper calls 'global governance without multilateralism', raises questions on the place of such a governance system within international law and the availability of standards for such a system. The case study for this research is the governance of space resources and the mining thereof. The regulation and governance of this issue-area is emerging as a combination of national laws that recognize the right to mine and private ordering of the operation of mining and further utilization of the resources. The research will explore whether global administrative law (GAL) and the 'law of global governance' set standards for such governance systems and by that both constrain and legitimize them.
Dr. Tepper's academic education is multidisciplinary. Prior to his doctoral studies at McGill University's Faculty of Law he earned a policy-oriented doctorate from China University of Political Science and Law focused on Chinese space policy, a master's degree in law from the Hebrew University of Jerusalem and a double bachelor's degree in law and economics from Tel Aviv University.
Prior to his return to academe, Dr. Tepper's career spanned the private and public sectors, notably working for the Bank of Israel and the Israeli Foreign Trade Administration resolving issues related to international trade and cooperation. He reported directly to the highest ranks of public administration, including the Minister of the Economy and Industry and the Parliament's Finance Committee. He led a formal inquiry delegation to China under the WTO rules and co-authored the feasibility study on a China–Israel Free Trade Area Agreement. Dr. Tepper also worked in the private sector, notably consulting international corporations on their legal affairs in Israel, including Fortune 500 companies (e.g. Johnson & Johnson, Pfizer, Merck, Eli Lilly). He is former Vice-Chairman of the Israeli Bar Association's Economic Forum. He brings his experience in senior level administration to his academic work seeking to identify and expand cutting-edge theory that withstands real-world constraints.
Research Project: Between Markets and States: Global Governance without Multilaterism?
All
Affiliated
Faculty
Scholar
Team