NYU School of Law, Vanderbilt Hall, Faculty Library (3rd floor)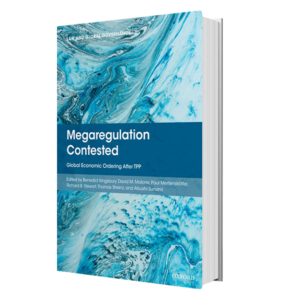 The IILJ and its MegaReg project invite the Law School community to the New York launch of MegaRegulation Contested: Global Economic Ordering After TPP, its newest publication with Oxford University Press. Robert O. Keohane (Professor of International Affairs, Princeton University) and Katharina Pistor (Edwin B. Parker Professor of Comparative Law and Director, Center on Global Legal Transformation at Columbia Law School) will join editors Benedict Kingsbury, David Malone, Richard Stewart, and Thomas Streinz for a conversation about megaregulation and the future of global economic governance.
Program:
6pm: Welcome and introduction by the editors
6:15pm: Reflections on Megaregulation Contested by Robert O. Keohane and Katharina Pistor in conversation with the editors
6:45pm: Discussion with the audience
7:30pm: Reception
Please RSVP.