22 Washington Square North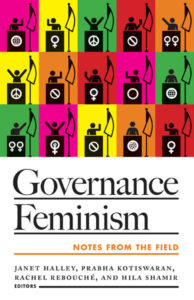 Please join us for a one day workshop on Governance Feminism: Assessing Feminist Reform Today at NYU on Friday, November 15. Organized by Vasuki Nesiah, Janet Halley, Rachel Rebouché, the workshop will center on a new collection titled Governance Feminism: Notes from the Field (University of Minnesota Press, 2019, edited by the organizers and others).
The workshop will be hosted by the JSD Program's Feminist Legal Theory Reading Group and co-sponsored by the Harvard Law School Institute for Global Law and Policy, NYU School of Law Hauser Global Law School Program, the Institute for International Law and Justice (IILJ), and the Jean Monnet Center for International and Regional Economic Law & Justice.
Please RSVP using the link.
Feminism walks the halls of power? In a two-book series, Governance Feminism: An Introduction and Governance Feminism: Notes from the Field (University of Minnesota Press, 2019) author/editors Janet Halley, Rachel Rebouché, Prabha Kotiswaran, and Hila Shamir, plus their twenty contributors, answer that question in the affirmative, and devote themselves to the ethically challenging task of describing and assessing feminist achievements in governance. In this special event, several key participants in the Governance Feminism books convene at NYU to explore the implications of finding feminist ideas and actual feminists in power, while in contestation among themselves and with other powerful forces in contemporary global political economy. Can feminism foster both governance aspirations and practices, on one hand, and a robust practice of feminist internal critique on the other?
Program
11 am-12:30 pm: The Feminist Turn to Sexual Violence and to Crime
Prominent among Governance Feminist achievements is a long-running focus on rape, sexual harassment, and other specific sexual offenses, sometimes grouped together as sexual violence or and gender-based violence. Often the legal remedies sought are framed as crimes or offenses against community norms for which punishment or ostracism is due. This panel will bring together three scholars who have examined this process in the US, in international law and human rights law, and in transitional justice.
Aya Gruber, "The Feminist War on Crime"
Karen Engle, "The Grip of Sexual Violence in Conflict: Feminist Interventions in International Law"
Isabel Cristina Jaramillo Sierra, "Finding and Losing Feminism in Transition: The Costs of the Continuum Hypothesis for Women in Colombia"
Moderator: Amy Adler
12:30-2 pm: Lunch discussion with JSD Students
2-3:30 pm: Gender and Global Political Economy
The spectacle of feminist deployment of criminal sanctions for sexual violence throws into the shadow the deep involvement of feminists in development law and policy, welfare law and poverty policy, and corporate governance. This panel will bring together scholars who have focused on the ways in which feminist ideas and feminist experts have entered into economic institutions to deliver on feminist goals.
Vasuki Nesiah, "Indebted: The Cruel Optimism of Leaning in to Empowerment"
Libby Adler and Janet Halley, "'You Play, You Pay': Feminists and Child Support Enforcement in the US"
Darren Rosenblum, "Sex Quotas and Burkini Bans"
Moderator: Ziba Mir-Hosseini
3:30-4 pm: Coffee Break
4-5:30 pm: The Turn to a Distributional Analysis: A Roundtable
Can feminists take stock of partial achievements in governance through what Max Weber, in his essay "Politics as a Vocation," called an ethics of responsibility? The Governance Feminism books suggest that attending descriptively to the distributive effects of law reform efforts introduced with emancipatory aims may enable such an undertaking. All the participants will reflect on different ways in which "doing a distributional analysis" has been, for them, a vital critical tool, and on the political and legal disruptions produced by critically examining feminist legal achievements.
Libby Adler, Karen Engle, Aya Gruber, Janet Halley, Isabel Cristina Jaramillo Sierra, David Kennedy, Vasuki Nesiah, Rachel Rebouché, and Darren Rosenblum
Moderator: Karin Loevy
Workshop Participants
Amy Adler, New York University School of Law
Libby Adler, Northeastern University School of Law
Karen Engle, University of Texas at Austin School of Law
Aya Gruber, University of Colorado (Boulder) Law School
Janet Halley, Harvard Law School
Isabel Cristina Jaramillo-Sierra, Universidad de los Andes
Karin Loevy, New York University School of Law
David Kennedy, Harvard Law School
Ziba Mir-Hosseini, New York University School of Law
Vasuki Nesiah, The Gallatin School, New York University
Rachel Rebouche, Temple University Beasley School of Law                                                                            Darren Rosenblum, Haub Law School, Pace University