Simon Chesterman and Chia Lehnardt (eds.)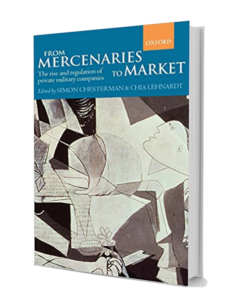 Frequently characterized as either mercenaries in modern guise or the market's response to security gaps, private military companies – commercial firms offering military services ranging from combat and military training and advice to logistical support – play an increasingly important role in armed conflicts, UN peace operations, and providing security in unstable states. Executive Outcomes turned around an orphaned conflict in Sierra Leone in the mid-1990s; Military Professional Resources Incorporated (MPRI) was instrumental in shifting the balance of power in the Balkans, enabling the Croatian military to defeat Serb forces and clear the way for the Dayton negotiations; in Iraq, estimates of the number of private contractors on the ground are in the tens of thousands. As they assume more responsibilities in conflict and post-conflict settings, their growing significance raises fundamental questions about their nature, their role in different regions and contexts, and their regulation.
This volume examines these issues with a focus on governance, in particular the interaction between regulation and market forces. It analyzes the current legal framework and the needs and possibilities for regulation in the years ahead. The book as a whole is organized around four sets of questions, which reflect the four parts of the book. First, why and how is regulation of PMCs now a challenging issue? Secondly, how have problems leading to a call for regulation manifested in different regions and contexts? Third, what regulatory norms and institutions currently exist and how effective are they? And, fourth, what role has the market to play in regulation?
Table of Contents
Foreword – James O.C. Jonah
Introduction – Simon Chesterman & Chia Lehnardt
Part I: Concerns
1. Moralityand regulation — Sarah Percy
2. What should and what should not be regulated? — Kevin A. O'Brien
3. Regulating the role of private military companies in shaping security and politics — Anna Leander
Part II: Challenges
4. Weak governments in search of strength: Africa's experience of mercenaries and private military companies — Angela McIntyre & Taya Weiss
5. A government in search of cover: private military companies in Iraq — David Isenberg
6. Transitional states in search of support: PMCs and security sector reform — Elke Krahmann
Part III: Norms
7. Private military companies under international humanitarian law — Louise Doswald-Beck
8. Private militarycompanies and state responsibility— Chia Lehnardt
9. Domestic regulation: licensing regimes for the export of militarygoods and services — Marina Caparini
Part IV: Markets
10. The emerging market for private military services and the problems of regulation — Deborah Avant
11. Make or buy? Principalagent theory and the regulation of private military companies — James Cockayne
12. Contract as a tool for regulating private military companies — Laura A. Dickinson