Rochelle Dreyfuss & Cesar Rodriguez-Garavito (eds.)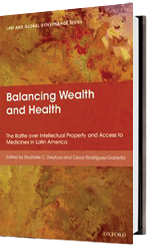 This book focuses on the debates concerning aspects of intellectual property law that bear on access to medicines in a set of developing countries. Specifically, the contributors look at measures that regulate the acquisition, recognition, and use of patent rights on pharmaceuticals and trade secrets in data concerning them, along with the conditions under which these rights expire so as to permit the production of cheaper generic drugs. In addition, the book includes commentary from scholars in human rights, international institutions, and transnational activism.
The case studies — presented from 11 Latin American countries — have many commonalities in terms of economics, legal systems, and political histories, and yet they differ in the balance each has struck between proprietary interests and access concerns. The book documents this cross-country variation in legal norms and practice, identifies the factors that have led to differences in result, and theorizes as to how differentials among these countries occur and why they endure within a common transnational regulatory regime.
The work concludes by putting the results of the investigations into a global administrative law frame and offers suggestions on institutional mechanisms for considering the trade-offs between health and wealth.
Table of Contents
Introduction, Rochelle Dreyfuss and Cesar Rodriguez-Garavito
1. Pharmaceutical Intellectual Property Rights Protection and Access to Medicines in Ecuador: State Sovereignty and Transnational Advocacy Networks, Tatiana Andia
2. The Recursivity of Global Lawmaking in the Struggle for an Argentine Policy on Pharmaceutical Patents, Paola Bergallo & Agustina Ramon Michel
3. CAFTA, Intellectual Property and the Right to Health in Central America, Angelina Snodgrass Godoy
4. Balancing Wealth and Health: The Case of Chile, Salvador Millaleo
5. Constructing and Contesting the Global Intellectual Property Legal Field: The Struggle over Patent Rights and Access to Medicines in Colombia, Cesar Rodriguez-Garavito
6. Balancing Health and Wealth: The Case of Patents and Access to Medicines in Brazil,Monica Steffen Guise & Adelina de Oliveira Novaes
7. The Influence of the Andean Intellectual Property Regime on Access to Medicines in Latin America, Laurence Helfer and Karen Alter
8. The Rights-Based Approach to Intellectual Property And Access To Medicine: Parameters and Pitfalls, Smita Narula
9. Public Participation in US Special 301 Actions, Sean Flynn
10. Going Local: Downshifting in the Era of TRIPS Implementation, Amy Kapczynski
11. Applying Human Rights Law, Molly Land
12. The Missing Role of WIPO, Ruth Okediji