The IILJ supports students who compete in international moot court competitions, especially the Phillip C. Jessup Moot Court Competition.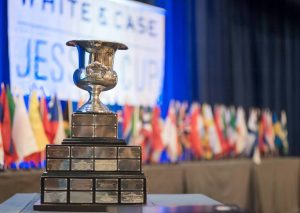 The Jessup is organized annually by the International Law Students Association (ILSA). Named after a former President of the International Court of Justice, the competition has attained immense popularity since it was first held in 1960. Today Jessup is the world's largest moot court competition, with participants from over 550 law schools in more than 85 countries.
NYU Law has been very successful in recent years. Our current team (2018/2019) just competed in the Northeast Regionals. After facing four other teams during the preliminary rounds, and subsequently defeating Cornell University in the semi-finals, our team reached the finals, arguing against Columbia, and placing as the Runner-Up. They also collected several additional awards along the way, including the award for second best memorials. Three out of the four oralists were ranked amongst the top ten oralists, and Marwa Farag won the award for best oralist of the competition. As the Runner-Up of the Regionals, the NYU team will now advance to the International Rounds, where more than 150 teams from all over the world will fiercely compete.
In 2015/2016 the team ranked 7th in the world in the international finals and Megan Henry was recognized as the 4th best oralist in the final rounds. The team also received accolades as regional runner-up and for regional second-best memorial, regional 4th, 5th, and 10th best oralist. In 2014/2015 NYU Law became national champions in the international rounds and got awarded the second best brief at the regionals along with 4th, 7th, and 8th best oralist.