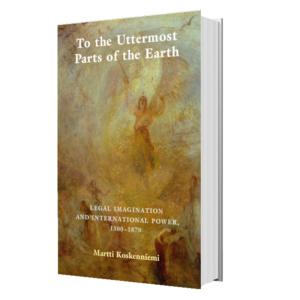 During the 2022 Spring Semester, a group of students and scholars of international law at NYU School of Law met regularly to read and discuss Professor Martti Koskenniemi's long awaited book, To the Uttermost Parts of the Earth: Legal Imagination and International Power, 1300–1870 (Cambridge University Press, 2021). Sixteen years in the making, the book is a marvelously crafted telling of 600 years of European legal imagination centered on the formation and consolidation of "sovereignty" and "property".
As we read the book we asked ourselves many questions: how to characterize the work—is it a history, a genealogy, a mythology? and a history of what? of international law? of statehood? of capitalism? of European expansion? We asked about the many (European men) whose monologues populate the story, and about the absent voices of "others", women, and imperial subjects. We asked about the relation between this book and Koskenniemi's previous work that has influenced many of us.
To conclude our discussion we invited Professor Koskenniemi to join us for an online public conversation. Led by the group's members and attended by Gráinne de Burca, Benedict Kingsbury, and others, this will also be an occasion to celebrate the book and honor its author.
Please register in advance for this conversation.
Co-sponsored by the IILJ and the Hauser Global Law School Program at NYU School of Law.