22 Washington Square North, 1st floor conference room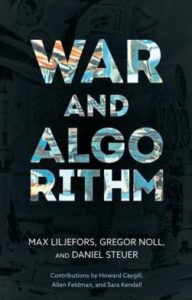 New military technologies are animated by fantasies of perfect knowledge, lawfulness, and vision that contrast sharply with the very real limits of human understanding, law, and vision. Thus, various kinds of violent acts are proliferating while their precise nature remains unclear. Especially man–machine ensembles, guided by algorithms, are operating in ways that challenge conceptual understanding. The book project consists of three individually authored chapters, which look at aspects of the emerging form of warfare from the perspectives of legal studies, philosophy, and visual studies. The authors, Max Liljefors, Gregor Noll, and Daniel Steuer, will present their contribution to understanding and resisting algorithmic warfare in 'an emerging world of war'.
Guest speakers:
Gregor Noll, Professor of International Law, School of Business, Economics and Law, Gothenburg University
Max Liljefors, Professor of Art History and Visual Studies, Lund University
Daniel Steuer, Research Fellow at the Centre for Applied Philosophy, Politics, and Ethics (CAPPE) at the University of Brighton, UK
Commentators:
Jessica Whyte, Scientia Fellow and Associate Professor in the School of Humanities and Languages (Philosophy) and the School of Law, University of New South Wales
Thomas Streinz, IILJ Fellow, Executive Director of Guarini Global Law & Tech and Adjunct Professor of Law at NYU School of Law
Moderator:
Karin Loevy, JSD Program Manager at NYU School of Law
Please RSVP here; chapters of the book will be sent to those who plan to attend.
The IILJ History and Theory of International Law Workshops are presented with the support of the NYU Global Institute for Advanced Study, Project on International Legal Orders and their Histories.