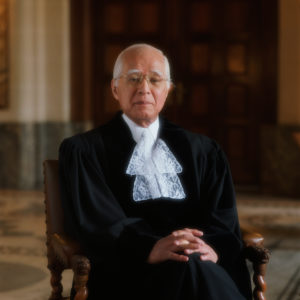 The Guarini Institute for Global Legal Studies welcomes Judge Hisashi Owada—former president of the International Court of Justice—back to NYU School of Law.
On November 20, 6:00-7:00 PM Professors José E. Alvarez, Jerome Cohen, and Benedict Kingsbury will discuss pertinent questions of international law with Judge Owada in the faculty library. We encourage members of the law school community to take advantage of this opportunity to meet one of the world's most distinguished jurists. The discussion with Judge Owada will be followed by a reception.
Judge Owada held various high-level positions in Japan and internationally. He was, among other things, Deputy Minister for Foreign Affairs of Japan from 1989 to 1991, Vice-Minister for Foreign Affairs of Japan from 1991 to 1993, Ambassador and Permanent Representative of Japan to the United Nations from 1994 to 1998, Representative of Japan to the United Nations Security Council and its President from 1997 to 1998, Head of the Japanese Delegation to the United Nations Diplomatic Conference on the Establishment of an International Criminal Court in 1998, and Senior Adviser to the President of the World Bank from 1999 to 2003.
The holder of numerous honours and distinctions, Judge Owada is a Member of the Permanent Court of Arbitration, an Honorary Member of the American Society of International Law, Chairman of the Advisory Council of the Asian Society of International Law and a Member emeritus of the Japanese Society of International Law. He is also membre titulaire of the Institut de droit international, having served as President emeritus from 2007 to 2009.
Please send RSVPs to rachel.jones@nyu.edu.
Note: The Judge will also take part in the Gelatt Dialogue, hosted by the U.S.-Asia Law Institute, on November 19.