Vanderbilt Hall, Room 22
40 Washington Square South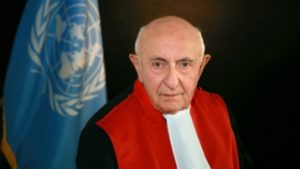 A conversation with Theodor Meron, Former President of both the International Residual Mechanism for Criminal Tribunals and the International Criminal Tribunal for the Former Yugoslavia (ICTY), on the challenges of judging international crimes.
Interlocutor: J. E. Alvarez, Herbert and Rose Rubin Professor of International Law.
Please RSVP.
About Judge Theodor Meron
A leading scholar of international humanitarian law, human rights, and international criminal law, Meron helped build the legal foundations for international criminal tribunals. Elected to the UN International Criminal Tribunal for the former Yugoslavia (ICTY) in March 2001, Meron served on the Appeals Chamber for both the ICTY and the International Criminal Tribunal for Rwanda (ICTR). He was elected President of the tribunal from 2003 to 2005 and again in 2011, and was appointed President of the UN Mechanism for International Criminal Tribunals in March 2012.
Meron was co-editor-in-chief of the American Journal of International Law and counselor in international law to the US Department of State. In 2010, he was elected honorary president of the American Society of International Law. He is a member of the Council on Foreign Relations, the American Society of International Law, the French Society for International Law, the Institute of International Law, and the American Academy of Arts and Sciences.
Meron was named an Honorary Companion of the Most Distinguished Order of St. Michael and St. George (CMG) by Queen Elizabeth II. His investiture took place in London on 2020 January 15.
Close